April arrives and with it the timid rays of the sun awaken us from the winter lethargy. It dawns earlier and darkens later and we expand the range of activities that we can do outdoors. We look forward to this season every year with great enthusiasm. It brings us joy and invites us to do new things, to have a coffee with friends on a terrace, walk and of course to get rid of the thick clothes we wear for so many months to feel the warmth of the sun on our skin.
In the Netherlands specifically this season is delicious, the landscape literally "blooms" and there are beautiful flowers in the squares, promenades, avenues and bridges of each city in the country. Tulips, lilies, hyacinths invade us with endless harmonic colors painting the city of good feelings that fill us with positive energy. The flowers also take over gardens and windows, backyards and terraces and every sunny day is welcome, people rush out with their bicycles to take the air and a little bit of sun.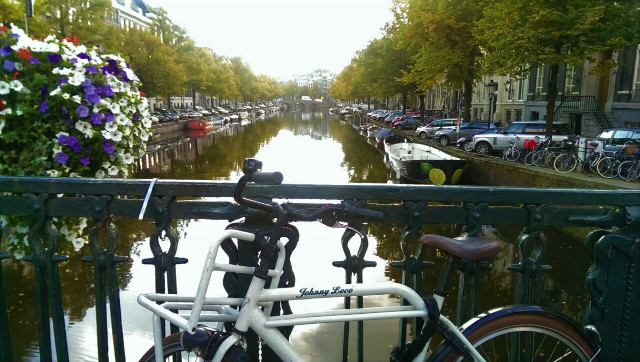 For me personally it is a season that inspires me especially and I want to do things outside. Drinking a cup of tea in a sunny corner reading or weaving is a simple and fantastic pleasure that I love. The steam from the teacup, the pages of the book or the fabric weave look different in the sunlight. Ideas and creativity are invited to come, take a good photograph or create a new design or simply close your eyes for a moment to relax and think.
An activity that I love to do from time to time in this season is to put a wool blanket on the bike rack, bring something to eat and a book or the project that I'm working on and the always volunteer company of Rocky and go to a nearby park under a tree or on the shore of one of the hundreds of canals of the city and spend a pleasant afternoon doing our favorite activities in the air and the heat of the sun. Rocky after doing a thorough inspection of the area, sits down, observes and then relaxes and sleeps. He has also been waiting for his favorite station to arrive.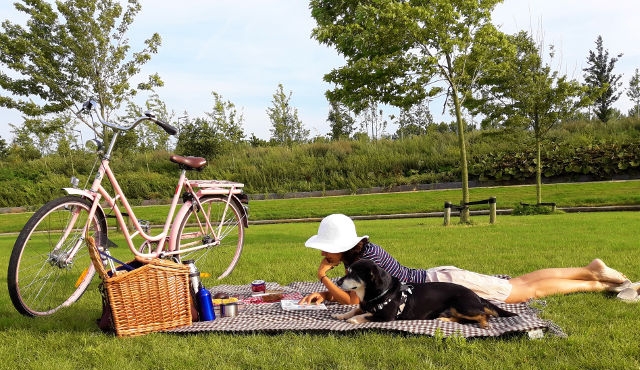 This is an activity that nowadays is done less frequently by our accelerated life. Time ago it was done often and many surely had unforgettable picnic days with the family. Famous is the travel blanket to lie down in comfort, the basket for the snack, for children a toy or ball to spend a funny afternoon, and a game, cards or something to read for adults.
Also those who like this activity and spend some time outdoors have the option of an afternoon or several days camping, fishing or for long walks in a natural park.
Doing this is within reach of anyone who proposes it. Its preparation just takes a few time. You can go walking, driving or biking. You can go for a short time or stay to see the stars ... there is always time to make a nice parenthesis in your day.
For those who have kids is an ideal activity, because they, like Rocky are always grateful to spend the afternoon in the park having a picnic and playing. The variants are endless and once you break the ice, it is an activity that you get used to easily, it does not cost money and puts you in touch with nature and with yourself or with you love ones. Conversing, telling stories, making plans, everything is possible when you are calm and relaxed.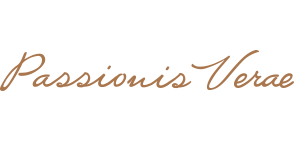 ---